He kā Kano au i ruia mai i Rangiātea (I Am A Seed Sown From Rangiātea) - Mixed Media Print | FRAMED
Regular price

$0.00

Sale price

$1,650.00
He kākano au i ruia mai i Rangiātea | Vanessa Wairata Edwards
FRAMED PRINT 

This striking handprinted limited edition woodcut print is apart of Vanessa Wairata Edward's series titled 'Social Amnesia' - He Taonga Tonu te Wareware, Forgetfulness is to be reckoned with always.


Limited Edition (5) Woodcut Prints | FRAMED
The Poi Room Has Editon 5/5
"Social Amnesia is a term referencing the work of Russell Jacoby, that refers to the collective forgetting by a group of people & can be a result of forcible repression of memories, ignorance, changing circumstances, or changing interests.
This often occurs after trying & difficult times for example; the coming together of two peoples, one must often relinquish its ways to that of the other either by need or force. This creates the tendency for some to ignore certain parts of history, or precedent, when discussing the present & more importantly, informing the future.
As people of varying backgrounds, we know aspects of our history, the aspects that affect us the most. However, we often fail to see the whole truth rather opting instead to accept a comfortable understanding that does not require too much reflection or explanation. This status is highly favoured by those in colonial power who go to great lengths to ensure the status quo; through lawmaking, governance &, the institutionalization of almost all aspects of life. The result is often the minority group forgetting their true history as they, generation by generation, assimilate to a new knowing of themselves. Social amnesia is encouraged to prevent unrest & possible rebellion, all the while enabling us to "move on" & let go, but who is doing the letting go here?
This work sees me developing a strong interest in the history/whakapapa of Aotearoa. I started by looking at the introduction of the printing letterpress & the effects on Māori in the 1800s as a means to explore what is happening now in terms of text, print, & printmaking & fell into the gaping holes in my knowledge in regards to Aotearoa's basic history. As a result, I have composed a series of works that instinctively download written knowledge into contemporary print formats; utilising new technologies of laser-cutters into wood, with handmade marks & graffiti spray-paint & stencils to underlay or overlay colour.  
These works are by no means a resolution to the discussion nor a map to a resolution.  Instead are to act like pou whakairo, tukutuku or kowhaiwhai in our wharenui, collectively activating the space to allow a response from the viewer's knowledge & personal ideology. To reclaim who we are is to speak our truths".

Dimensions:

Framed - Width - 590mm x Height 1000mm

Please Note - 
Due to Vanessa Wairata Edward's print process & approach, there may be variations within the colours and textures - making each print unique in nature. The overall essence of the print will remain the same & remain true to the visual representation seen within the imagery.

The 'in situ mockup' is merely an example of visual representation within an environment and it does not truly reflect the size of the print. Please refer to the measurements above for the exact dimensions of this work. 
Commissions

Love this artwork but wish we had a different size, shape or alternative colourway? The Poi Room can help facilitate the creation of a customized piece of art just for you. To find out more, please contact either of our stores or just click here.
Product Inventory //
loading..
PLEASE NOTE: If our Online Warehouse says 'Out of Stock', please continue with your order as per normal. We can still fulfill your order from the stock in one of our galleries. Happy shopping! If an artwork you are interested in does not show up in a certain location then please call or email us to check availability or we can transfer to the gallery that suits you.
Share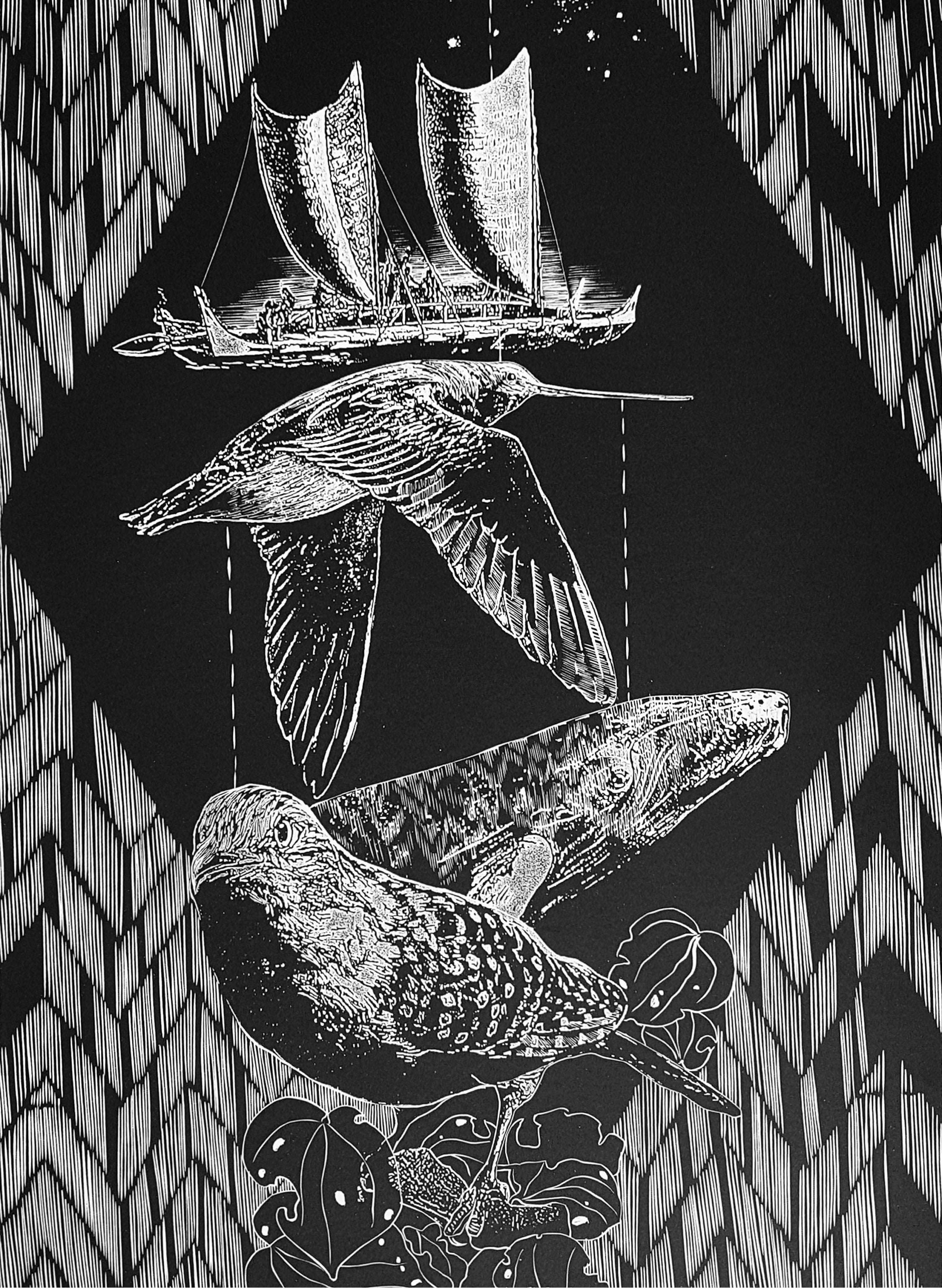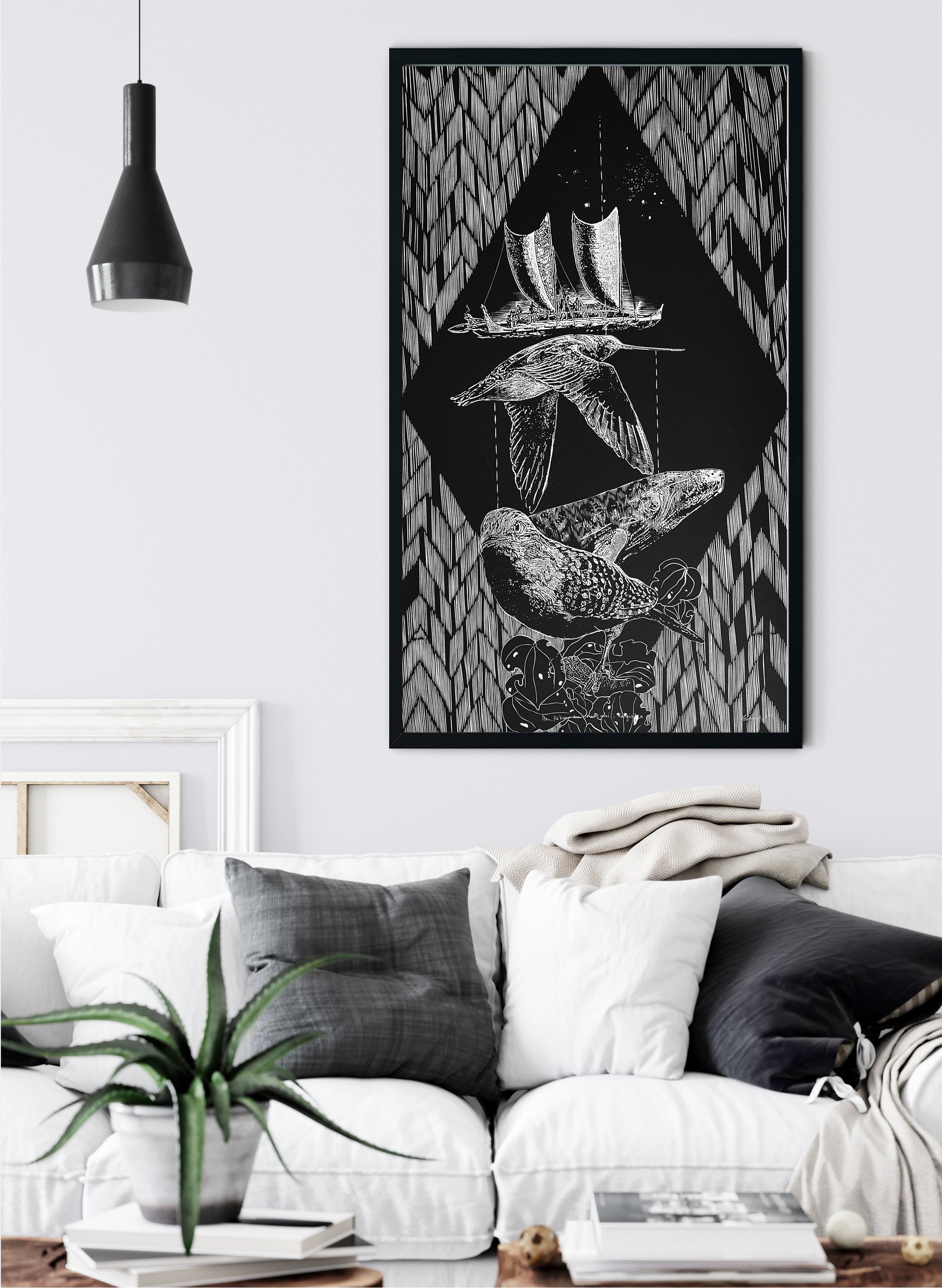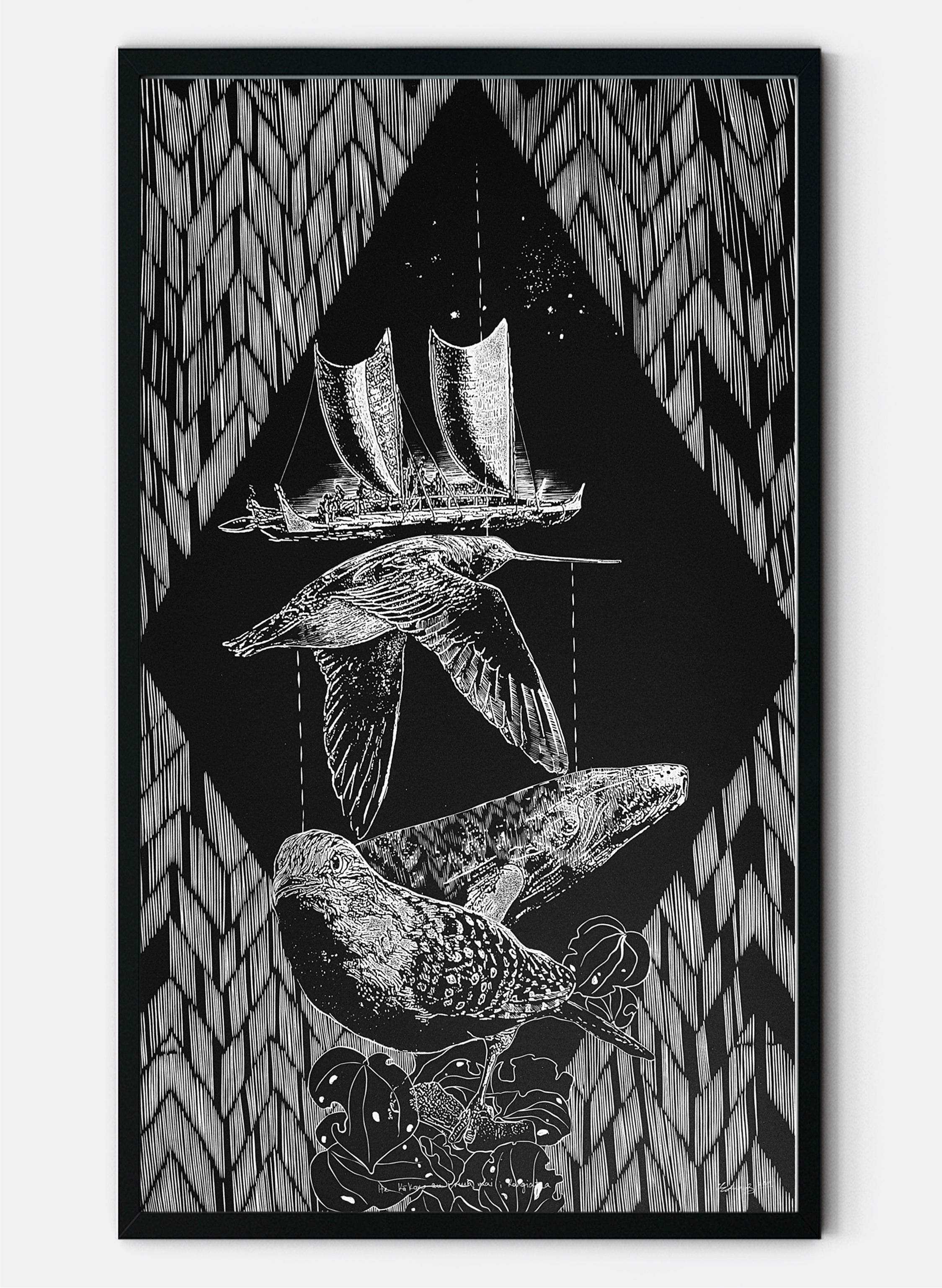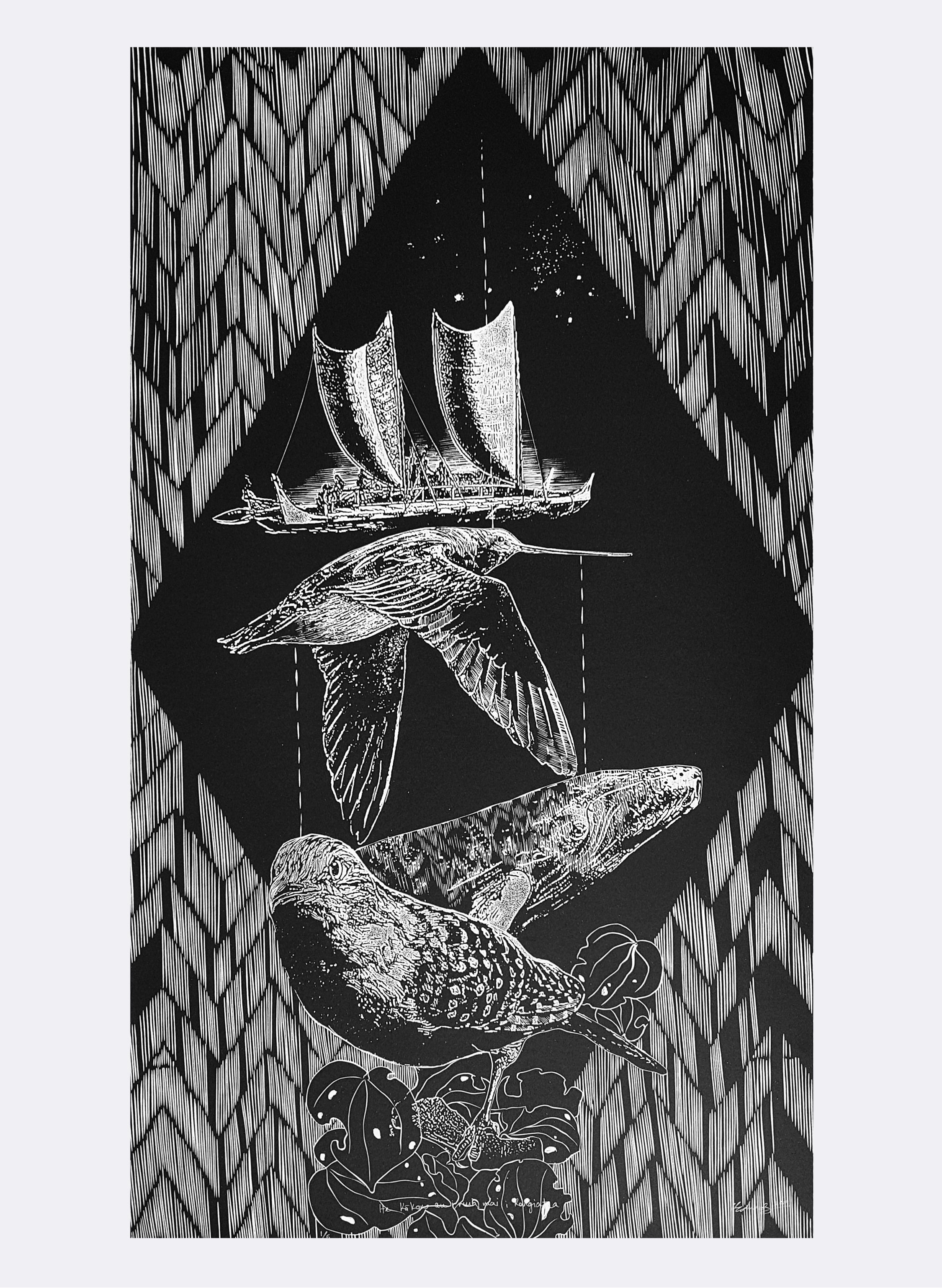 Caring for your artwork

HANGING YOUR ART - Where possible, hang your artwork with two wall mounted hangers fixed to wall studs or wall anchors when necessary. Do not hang your artwork in direct sunlight or in a room with large temperature variations.

CLEANING -  Clean glass with a non-ammonia based glass cleaner with a microfiber cloth. Avoid spraying cleaner directly on the artwork. Dust your paintings & frames with a clean, soft rag occasionally to prevent dust build-up. Do not use cleaning products or water.

LOCATION - Hang your artworks away from very busy & possibly messy areas. Over time, artworks can accumulate a thin layer of dust, pollutants & airborne grime. Display your artworks in a less exposed area affected by these.

STORAGE - Prevent accidents & store your artworks away from anything that may press against the surface. Do not cover artworks with plastic for long periods of time. If there is humidity in the air, they may start to grow mold. Cotton sheets are best for keeping dust away.

PREVENTION - Try avoid subjecting your artworks to extreme changes in atmosphere. Avoid excessive dryness, humidity, heat or cold. Check the condition of your artworks periodically. Once hung up there is a tendency to forget about it until noticeable damage has occurred. If you notice the artwork is fading or cracking, move it to a better place & avoid further damage.

WE CAN HELP - If your artwork does get damaged, return the piece back to The Poi Room and we can advise the best course of action for you.
Shipping

Items couriered within New Zealand will be delivered to the address specified within 2 – 5 working days.  However, if the product is not in stock we will advise on availability and delivery. Generally  goods delivered nationally and internationally will be couriered using GoSweetSpot and as such, delivery times vary. 

Certain framed Prints, Paintings and High Value sculpture will be shipped outside of Auckland through Pack and Send which are professional boxed and insured. These packages within the Auckland area will be hand delivered by our own steam.

Goods delivered internationally may be subject to the relevant duties and taxes applied by the country the goods are delivered to. These duties and taxes shall be the responsibility of the recipient of the goods.

Please note all there will be an additional 10 days delivery for framed prints.
Who is the poi room

We wish to surround ourselves and our business with people that both appreciate and also carry out our high standards, exacting morals and ethical behaviour so to be able to truly allow us to make a positive difference to everyone around us.

 We share the uniqueness of Aotearoa's artists to the world but also "make a positive difference" to all those we meet. With a positive attitude over the years we have become enablers for the art world! We've grown so much since we opened our doors to our first gallery in 2007 and are now widely regarded as Aotearoa's go-to place for local made art, objects, artisan jewellery and contemporary wall art.